As in the story of the man who saved the life of starfish, with our European Solidarity Corps "The Receiver: Mother Nature" project, we will try to save thousands of starfish struggling to survive on the shore as much as we can. We hope that those who see us may participate in this solidarity movement, and that perhaps everyone will feel responsible in this sense. With this metaphor, we aim to set out with a group of volunteers to protect our environment from dangers, to announce these activities around us, to make the people follow us and to make everyone feel responsible to protect our environment.
We want to carry out our activities in two alarming locations of the world. These are Sumgait in Azerbaijan with its industry that has been going on for many years and causing great damage to nature and human health, and Sousse in Tunisia, where waste management is very unsatisfactory and the uninterested people about on this issue. We want to create a spark to raise environmental awareness in the public, to activate them to protect the environment, to ensure the sustainability of the ecosystem, to protect human health and to leave a clean and healthy environment and future for our children.
In addition, we want to make our volunteers, who will take part in the project, be aware of environmental issues, and gain many new competencies that will help them to find a job in the future and help them be a useful citizen for our country. With our project, our volunteers will acquire the following new knowledge, skills and attitudes:
They will
– improve their foreign language skills
– adapt to different environments and learn to live and work just like a local
– be respectful of different ideas and have an open mind
– be able to work in teams
– develop the awareness of finishing a task on time
– be able to bring practical solutions to problems
– learn about fauna and flora, ecosystem, green energy
– contact decision makers and make their voices heard in this area to develop policies against the factors that threaten
the world and living things
– become an active citizen
– acquire many new competencies in science, technology, industry and digital areas
– have many new competencies related to recycling
– develop artistic skills in recycling workshops with children
– learn to work with children and educate them with fun
– be open to learning and innovations any time
Our project has two activities:
1st Activity will be in Sumgait, Azerbaijan with 8 volunteers for 59 days and
2nd Activity will be in Sousse, Tunisia with 8 volunteers for 59 days
We aim to work on envrionmental issues with 16 volunteers in total.
All of our 16 volunteers will have disadvantages. The criteria that we are looking for in the candidates will be the young
people who cannot find a job because of lack of sufficient qualifications, have disabilities, have health problems, live in
different social, cultural and geographical environments, have a diploma or have not graduated from any school and have
an environmental protection mindset.
Our volunteers will do the following during their activities:
– Environmental cleaning with young people, to which the public is also invited
– Sorting the collected garbage
– Recycling activities with disadvantaged children and youth
– Organizing panels, lectures and discussions on the environmental issue
– Planting flowers and trees in public areas
– Minor repairs and painting of worn and neglected public areas
– Erasmus + and European Solidarity Program introductory presentations to young people
1st Activity:
Hosting Organisation: "Common Sense" Youth Organization PU, Sumgait, Azerbaijan
Senanur Değirmenbaşı and Barış Gürkan Erez: 23.09.2021 – 20.11.2021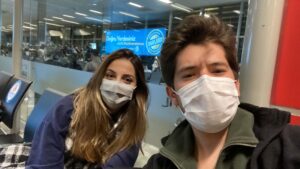 Muhammed Tarık Aslan and Özge Şahin: 29.11.2021 – 26.01.2022
2nd Activity:
Hosting Organisation: Association Solidarite Echange et Developpement, Sousse, Tunisia
Seher Yağlıdere and Meryem Göztepe: 03.05.2021 –  30.06.2021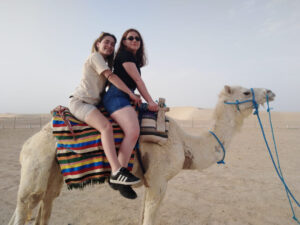 Meryem participated in the recycling activities with children. She worked in the botanical garden. She learned Arabic. She made friends with other volunteers from different countries. She learned about their culture and she introduced them our culture.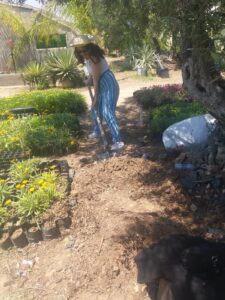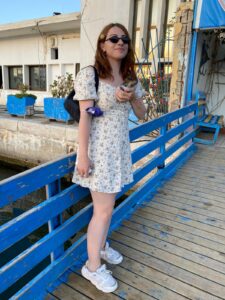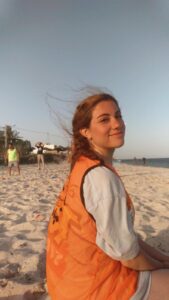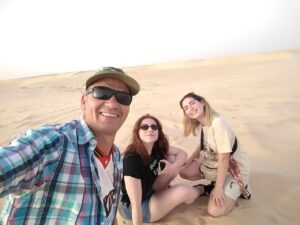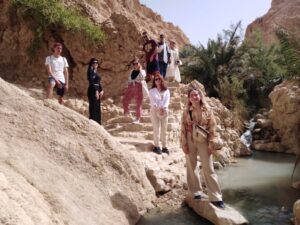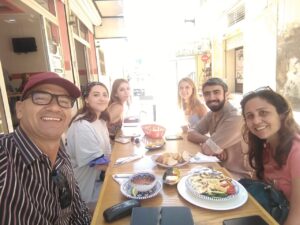 Safa Okay: 02.07.2021 – 29.08.2021
During his activity, Safa participated in beach and street cleaning activities. He took part in sports activities. He was in painting activities on the beach. He learned Arabic and developed his English. He learned about Tunisian culture. He introduced our culture to them. He traveled the country with Italian and Polish volunteers by hitchhiking. He wrote an article about hitchhiking stories. This activity helped both the environmental problems of Tunisia at least a little and supported Safa's personal, social and occupational development.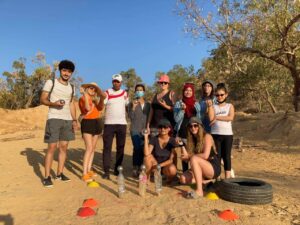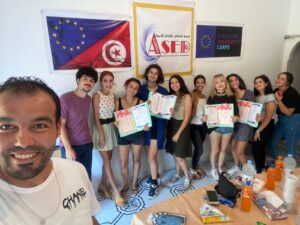 Beyza Sancı and Emrah Aşkın: 03.09.2021 – 31.10.2021
Beyza and Emrah cleaned the streets, forests and beaches, organized recycling activities with children, painted and repaired in the public areas, went for scuba diving, participated in the beach volley tournaments, took place in the Turkish and Tunisian cultural nights and played team games in our Tunisian partner, Association Solidarite Echange et Developpement. They have had so many new competences in the personal and social context.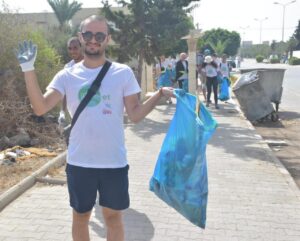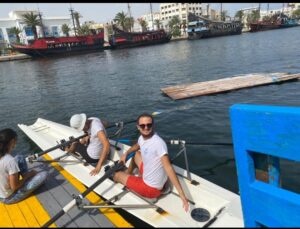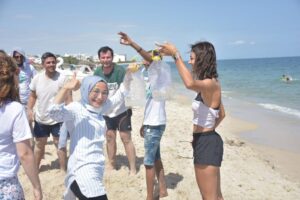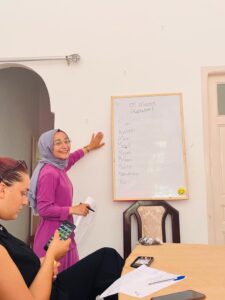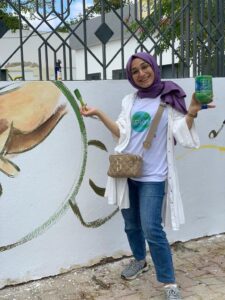 Oğulcan Cumhur Sarı: 05.11. 2021 – 05.01.2022