There are two activities in our European Solidarity Corps project "Hands & Paws".
Activity 1: Unfortunately, there are so many stray cats and dogs in the streets. And most of them are ignored by the people. The activity
covers work of the survival of the patient, elderly, disabled, baby and orphan (in oral period) cats and dogs without owners. The work is in short: Assisting the surgeries, diagnosis, treatment, post op care, struggling against the viral diseases, orphan care, daily check-ups, going to the calls, feeding, adopting and fund raising activities. In order to do these tasks, we would like to host young vets as volunteers and run to the help of our stray friends with them. With the project, we will be able to save not all of the animals that need help maybe but we certainly will be able to save some of them.
Activity 2: The activity will be hosted by the Association of Sustainable Development in Sinop. This association organizes artistic and cultural activities for the sustainable development of Sinop. Their biggest project is Sinopale. Sinopale is an International Sinop Biennial. It is the second biggest biennial after the Istanbul Biennial. It has wide range of artistic and cultural events every two years and also it often meets the audience with its mid-performances between the biennials. Thus Sinop is never behind the art. But in order to realize this kind of events, a great amount of financial and voluntary support are needed. Even though the sponsors are found, the young volunteers who can assist foreign artists and curators with their artistic background are needed all the time. Voluntary support is as important as financial resources. The artist without an assistant can't contribute in such a big event. It needs solidarity and team work. Voluntary activities are in short: being a part of the biennial working team, assisting the artists and curators, correspond with the people and the institutions, having ideas about all kinds of art and practice them, installing the materials and taking their responsibility, ushering and being participant in the workshops. Even though Sinop is a very small town, we would like to realize artistic and cultural events like the ones in the big cities with the voluntary support.
1st Activity:
Volunteers:
Marjo Zaka
Sending Organisation: Center for Bridging Communities, Tirana, Albania
Activity Period: 05.01.2021 – 05.07.2021
Marjo participated in the surgery operations such as sterilization, amputation, implantation, etc, handled the post-op care and Distemper, Panleukopenia and Parvoviral Enteritis treatment of a lot of stray friends with Vet Volkan Tuncay of the Municipality of Sinop. He fed the ones who are sick, weak, young and old with special food. He did their daily check-ups and reported to the vet. Marjo also took care of the ones who need special and intensive care at his home. He took Turkish lessons during his 6-month-long activity. He made a lot of friends.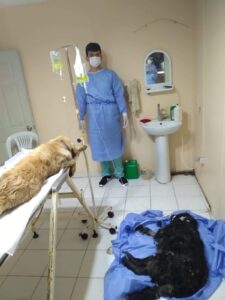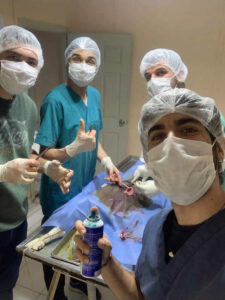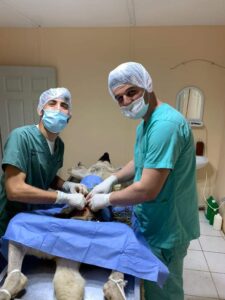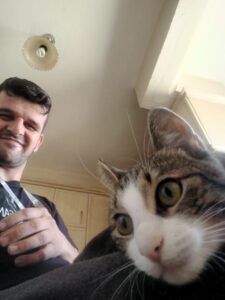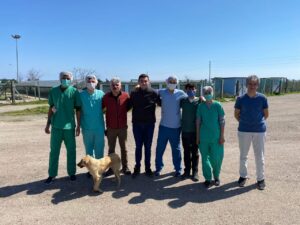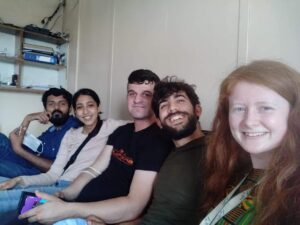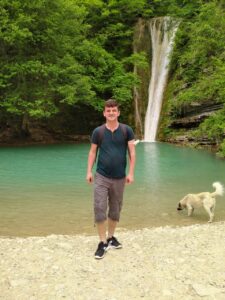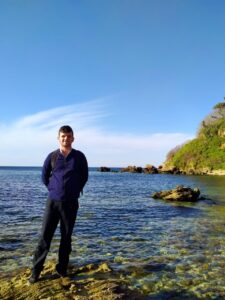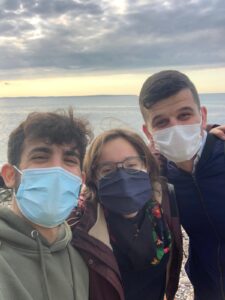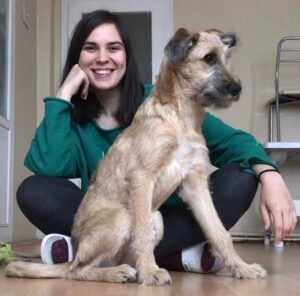 Sonia Maria Margineanu
Sending Organisation: Asociatia Forumul Cetatenesc pentru Actiune Sociala si Educatie Civica, Romania
Activity Period: 09.11.2021 – 07.06.2022
Our vet volunteer, Sonia Maria Margineanu, who come from our Romanian partner, Asociatia Forumul Cetatenesc pentru Actiune Sociala si Educatie Civica within our European Solidarity Corps project "Hands & Paws", has left for her home. Sonia worked in the shelter, at home and outside with us for care and treatment of our homeless friends. She assisted the vet of the Municipality, Volkan Tuncay with the surgeries, helped their treatment and took care of the sick and orphans at her home. She helped countless animals survive. She adopted the animals she rescued. For this, she took their photos and prepared their information. She made announcements on social media. Sonia also took part in the fund raising activities for the homeless animals and made products to be sold with us. She took Turkish lessons. She participated in the On-Arrival meeting of the Turkish National Agency in Afyonkarahisar with the other volunteers in Turkiye. She also participated in the local activities of Egitim Programlari ve Evrensel ve Kulturel Aktiviteler Dernegi (EPEKA) for their Erasmus+ KA2 Capacitiy Building in the Field of Youth project "SLAM" and involved in the youth work in media. She also participated in the Complementary Activities in the local of EPEKA for their European Solidarity Corps, Volunteering Teams in High Priority Areas project "IPlan-et" and she had knowledge and experience of civil society actions about recycling and sustainable environment.
Throughout her activity, Sonia was not only the doctor for our stray animals, but also their mother and angel. She always did the best she could. She not only gained many new competences in her profession, but also became a part of social enterprise, civil society activities and international youth work.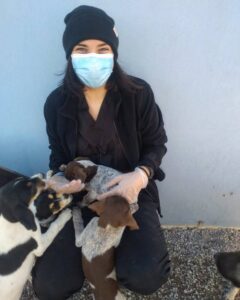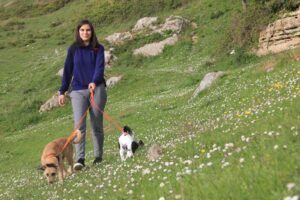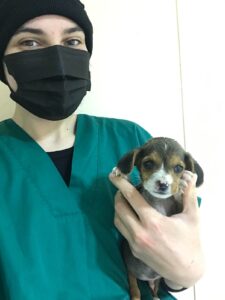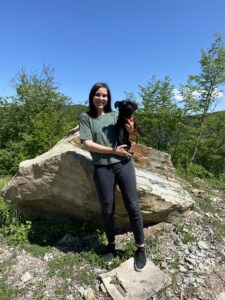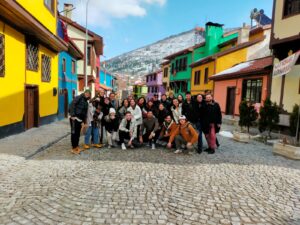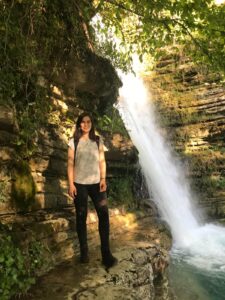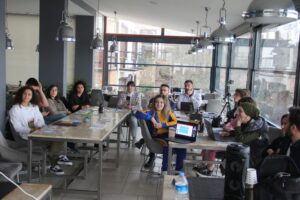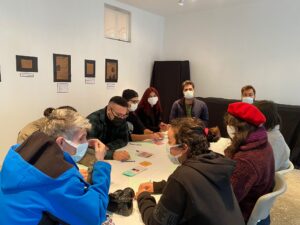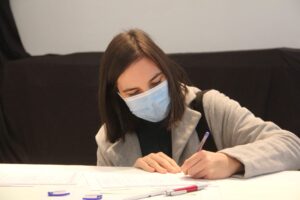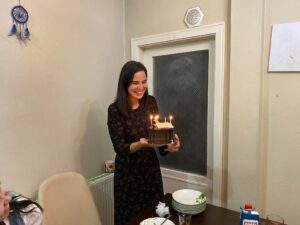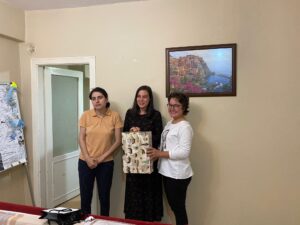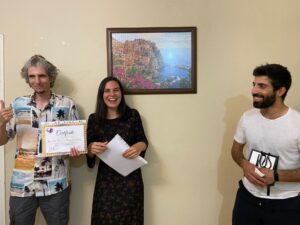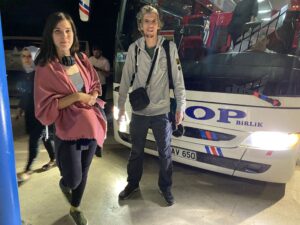 2nd Activity:
Volunteers:
Rihab Mazigh
Sending Organisation: Club Culturel Ali Balhouane, Tunis, Tunusia
Activity Period: 15.10.2020 – 14.10.2021
During her activity, Rihab worked on her two passions: animal welfare and products themed Christmas, Valentine's Day and summer to be sold for stray animals. The income from the sales was spent fort he surgeries, treatment and food for the stray animals. She gave them a place of warmth and comfort while they recovered from their injuries and surgeries. One of those stray cats that Rihab wound up adopting permanently, a lovely cat named "Cookie" who was unfortunately diagnosed with a chronic gastrointestinal condition but was able to receive treatment due to the selfless efforts of Rihab and our association. Also Rihab took Turkish courses. She learned about the Turkish culture. She made friends with the Turkish people and the volunteers who came from different countries.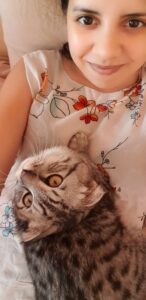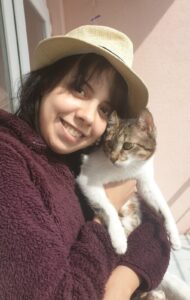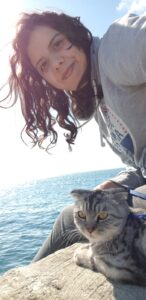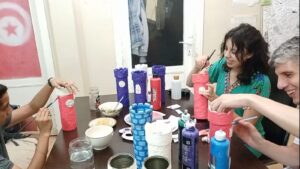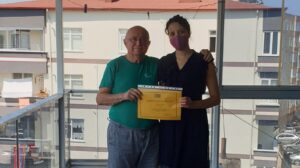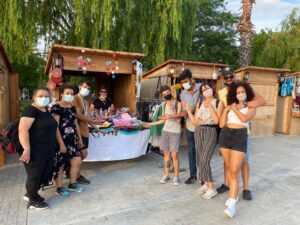 Anna Okhrimenko
Sending Organisation: Unit, Kiev, Ukraine
Activity Period: 05.07.2020 – 01.09.2021