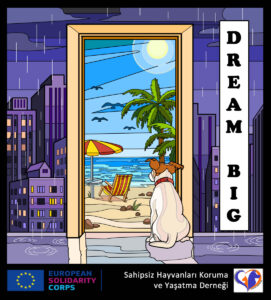 There are two different aims in our European Solidarity Corps project "Dream Big". Our first aim is to provide desired qualifications which are neccessary for the working world to the disadvantaged volunteers who will take part in the project and ensure their employment. Our
second aim is to find solutions of the challenges the vulnarable groups – children, disadvantaged young people, elderly people, disabled people and refugees – of our partners face such as exclusion, the state of being minority because of race, langauge, religion , ethnic roots and physical deformation, etc from the public who has prejeduces, unemployment, lack of education, lack of personal, social and occupational development, in capable of adapting themselves with the fast moving technology, elderly people feel lonely, insensitiveness of the society towards vulnarable groups. With our "Dream Big" project, we would like to improve the aforementioned bleeding wounds of the society, to reveal the EU values, to defend the principles such as human rights, freedom and equality and to advocate the rights of vulnerable groups.
There are 3 activitities in the project:
1st activity will be in Athens, Greece for 59 days.
2nd activity will be in Melendugno, Italy for 10 months.
3rd activity will be in Hemel Hempstead, UK for 10 months.
There will be a Turkish young person in each activity. So there will be 3 volunteers in total in the project.
The first activity: Volunteers will participate actively in some of the classes in the primary schools and in educational activities in the kindergartens. In primary schools, usually it is language classes or modules related to art, like craft, drawing and painting. Regarding the kindergarten activities, the volunteers will mainly take part in educative games and activities during the day.
The second activity: Volunteer will organise artistic and sportive activities with disadvantaged children and young people, broadcast radio programs and participate in implementing the associaition's national and international activities.
The third activity: Volunteer will take tasks on inclusion and providing a better quality of life of the disabled, elderly and refugees, who the hosting organisation prodives service and participate in implementing the associaition's national and international activities.
1st Activity:
Hosting Organisation: Evropaiko Ethelontiko Kai Ekpaideftiko Kentro
Venue: Athens, Greece
Volunteer:
2nd Activity:
Hosting Organisation: L'ARCOBALENO Società Cooperativa Sociale
Venue: Melendugno, Italy
Volunteer: Yasemin Erdem
3rd Activity:
Hosting Organisation: Dacorum Council for Voluntary Service (DCVS)
Venue: Hemel Hempstead, the United Kingdom
Volunteer: Atacan Hüseyin Yeşilada